THE DAISUKI TOUR - JAPAN 2019

October 31 - Outbreak / Tokyo
November 1 - Rebirth / Tokyo
November 2 - Heaven's Door / Tokyo
November 4 - Live Freak / Tokyo
November 5 - Outbreak / Tokyo
November 6 - K's Dream / Chiba
November 8 - Sanush / Shizuoka
November 11 - Clapper / Osaka
November 12 - Bronze / Osaka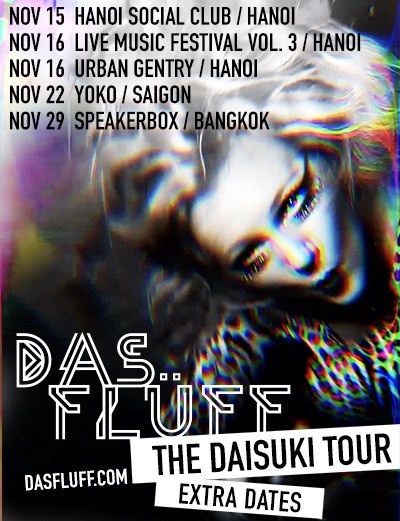 ADDITIONAL ASIA TOUR DATES:
November 15 - Hanoi Social Club / Hanoi
November 16 - Live Music Festival / Hanoi (6pm)
November 16 - Urban Gentry / Hanoi (late)
November 22 - Yoko / Saigon
November 29 - Speakerbox / Bangkok
December 6 - Punk for Mental Health / London

LIVE SHOWS IN 2020
January 25 - O2 Islington / London (rescheduled from October 27 2019)
May 23 - Schokoladen / Berlin
A track which instantly had appetite and imagination on red alert as fluid electronic squirts align
with inescapably coaxing beats while electro punk tendencies gather. In no time it breaks into its
infectious stroll with Dawn's melodic tones as mercurial in expression and attitude as the
sounds around her. It is a rousing start to the album, a magnificent trespass of temptation
and multi spiced sound seeing lips being licked for what is to follow...
'Beautifully raw descriptive lyrics and composed feral vocals take you deep inside a world of glamour and shame.'

'I can't help but think of Anxiety Dreams as a masterpiece of an album, as vicious as it is haunting and hypnotic.'

'A never-less-than-thrilling blend of primal yin and cerebral yang … However dark they may some times be, however ecstatic or fraught, you'll recognize your own desires in these songs.'


ORDER THE ALBUM HERE!
CD £10 + £4 postage and packaging